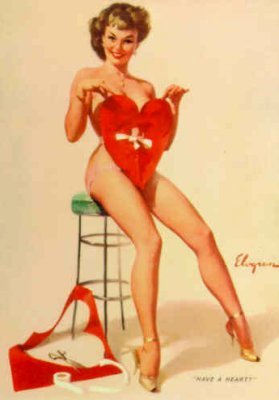 Maybe it's just me but for as much as I love flowers and chocolate (and I do love chocolate), when it comes to gifts I'd much rather get something that's fun, lasts the whole year, doesn't die or go straight to my hips. For me, the thoughtful gift of something I could share with the person I play with (or by myself ) was always a much better option.
With that in mind, whether you're shopping for yourself, your partner or as a couple, the following suggestions should come in very handy when it comes to this years gift giving.
If you'd prefer to shop for that special lady in your life, rather then couples gifts, I suggest you check out my post on "Gift Ideas For Her". On that note, if you're just looking for some fun little add-ons to a gift you've already purchased, my list of stocking stuffer ideas is also a good place to start , just ignore the "stocking stuffer" part and keep in mind all the products are relatively generic and not completely Christmas themed.
While I'd love if you shopped through my official online sexual wellness store, please feel free to click the links (on the right side) for other companies that may have the products offered for lower prices. To me it's not about where you shop, it's about helping you find a product you can afford, while also bringing hours of pleasure to you and yours.
*Prices quoted are from my store unless otherwise stated
*For more great ideas check out my "Enhancing Intimacy With Games" video/blog post.
From glow in the dark to fruit flavored, from chocolate to graffiti inspired, when it comes to body paints you're guaranteed to find a product you'll like. The only suggestions I have are to look for products that don't stain (you or the sheets), come in a variety of flavors/scents and come with everything you'll need to use them to their full advantage. (glow in the dark and "requires a black light" are two very different things)
*Cheesy quote: "Nothing spells sexy like the words you'll get to paint on your lovers body." – blame Jamie for that one!
Worth trying: Sexy Lovers Graffiti Paint, Kama Sutra Chocolate Body Paint, System Jo Dona Body Drizzle,  Glow In The Dark Finger Paints (pictured below)
Imagine the scene; you've just spent a grueling day at work, your boss royally pissed you off, you didn't have time to take a break and what's worse you got caught in the rain without your umbrella. You open the front door and find your partner has a bath full of bubbles along with a glass of bubbly waiting for you. Sure, I'll admit it sounds corny, but its little things like this that can make all the difference in the world – if not the perfect end to a really crappy day.
*if they're open to it, why not have them join you in the bath and unwind together.
Indulge in these: Kama Sutra Treasures of The Sea, Secrets Bath Bliss Collection, Vibrating Body Scrubber, any of the products in the Sex In The Shower line, Kama Sutra Spa Pleasures, Pulsabath Vibrating Sponge, Sex Bubbles (bubble bath)  (first 4 pictured below)
I'm putting this on the list simply because I think it's important for everyone  to learn to embrace not only their sexuality, but also their sense of self and work toward developing a healthy self esteem.
Whether you're "fat", "thin", heavy on the top, small on the bottom, shaped like a pear or round all around, learning to be comfortable in your own skin is a big ingredient to having a satisfying sex life. With this in mind, I highly suggest investing in a fun kit that has everything you need to dance away your fears and feel sexy in front of your partner.
*sure the dancing part is for him/her, but the liberating feeling of being naked and not giving a shit what you look like is all about you!
Best products I've found: Striptease Kit, Art of Pole Dancing (book), Strip Deja Vu (game) Stripteuse kit, Practical Striptease (book), Art of Lap Dancing (book), Striptease CD (with play money), Stripper Bucks (playful vouchers), Pastease (nipple pasties), Feather Boa, (first four pictured)
Maybe it's just me but there is nothing more fun than the kinky foreplay a lot of adult themed board games can inspire. Whether it's a hand of strip poker, spin of the bottle, toss of the dice or some frisky snakes and ladders, finding a game that's easy to play and sure to add some spice to the bedroom is much easier then you think.
*For those of you that have a hard time getting your partner to engage in foreplay – a game like any of the ones I'm listing is a great way of getting them involved without having it feel forced, confusing, intimidating or overwhelming. After all – it's just a game right? 😉
Some of my personal faves: Climaxxx (board game), Bedroom Rockstar (board game), Indecent Proposals (board game), Talk Dirty To Me Lover (board game), Dice & Dominos (various types), Sex! For Gay Men,  Foreplay Connect (game), Sex Detention (rule game) Sex Up The Night (role playing kit), Romantic Pleasures Kit, Scratch & Win Tickets, Bumps & Grinds (board/drinking game).  (first 4 pictured below)
From what I keep hearing there seems to be a consensus that any book on the subject of sex is filled with pages of "textbook" style writing, has numerous diagrams pointing out the anatomical differences between males and females and is basically boring. Fortunately, with the influx of fantastic writers hitting the scene books on sexual topics are exciting and fun, provocative, interesting and full of neat little tips and tricks you and your partner can share.
*my tip, get a book on something you're both into and read to each other. When you're finished the chapter, practice the techniques you've learned. Better suggestion; buy a book on toys like Babelands, read through it and take each other shopping for a product you might like trying.
My faves: Sex Toys 101, 101 Places To Have Sex, Moregasm, Anal Pleasure and Health, Fetish Sex,  Forbidden Knowledge, Comics (various themes), Your Orgasmic Pregnancy,  Touch Me There, Sex In The City (not based on the TV show), Kama Sutra, Best Gay Erotica 2010, Make Your Own Adult Video. (first 4 pictured below)
If you're a female looking for a present you and your lady can use, or if you're a male that's comfortable with anal play and wants to try something new, there are lots of fantastic products that can definitely make the experience an enjoyable one.
For those of you not in the know, a Strap-On is a product that is worn via a harness and includes varying rings or a locking system for different sized dildos or vibrators. They usually offer little stimulation for the "giver", yet provide much for the "receiver".  Alternatively, Feeldoe's and other strapless penetrators are products that are vaginally inserted to deliver stimulation to the person doing the thrusting while also providing the dildo needed for penetration of the partner. If both would like to have the experience of having something inserted, while allowing  a longer depth of stimulation Double Dongs are an interesting option.
Personal Suggestions: Tantus Feeldoe, Sportsheets Heart Harness Dong Set, Tantus Bend Over Beginner Kit, Fun Factory Share XS, Sportsheets Thigh Harness, (first 4 pictured below)
So sex toys aren't your thing and your partner would prefer to spend a romantic weekend alone, no problem with all of the fantastic kits and gift sets that come out for Valentines Day you've got oodles and oodles to choose from.
On that note, in a long forgotten time, way before Jamie and I were together my partner surprised me with the complete Lovers Choice Fantasy Gift Suite including: warming massage oil, chocolate body paint with brush, champagne flutes, a champagne bucket, two satin robes, one thousand scented silk rose petals, three pillar candles, fifty tealights, the Amazing Hot Heart Massager, a romantic music CD, and a full color romance guide – if I said it was literally everything and anything you could dream of – that would be an understatement. While it was a tad pricey, it was definitely worth it! (pictured left)
*Keep in mind these make fantastic wedding/anniversary gifts!!
Fantastic Finds: Kama Sutra Weekender Kit, forget the typical box of chocolate and get your lovely a Kama Sutra Sweetheart Box (filled with chocolate flavored goodies!), Shunga Tenderness and Passion Set, Deluxe Bed Of Roses Kit Lovers Choice Romantic Essentials Kit, Kama Sutra Treasure Trove (either flavor/scent) Sensual Desires Kit, Shunga Carnal Pleasures Collection, Kama Sutra Oil Collection (first 4 pictured below)