Ask anyone that's looked online or stepped into a giant "toy store" and they'll most likely agree, finding a good beginner toy isn't easy.
In fact, it can be a rather daunting and overwhelming experience; not only is it often hard to find products that are "reasonably" priced while also being body safe*, but when you add being discreet, easy to use, powerful, quality made and waterproof to the list it's damn near frustrating.
I know, I've been there.
Fortunately, there are lots of great products that have all of the above features and then some, you just need to know where to look.  Such is the case today with the fun little product I was recently sent from the folks at Eden Fantasys ~ Bottle Rockets Waterproof Saturn by Evolved Novelties.
Blast Off!
The packaging is discreet, professional and in this case, absolutely adorable!! Seriously, I love it! 😀
Encased in a clear, bottle shaped, plastic holder sits a little vibe that's likewise adorable. Although there is writing on the packaging stating the features and benefits, there is nothing that actually says what it is, or what it's for. Thankfully there also aren't any pictures of random naked folks in "compromising" positions or cleverly phrased words suggesting what it might be. All it says is "Bottle Rockets: Waterproof Saturn", that's it.
*Removing the product from the fun bottle casing is very simple: unscrew the bottom cap, tip the container and catch the vibe as it falls out.
When I first got my hands on Saturn I was rather surprised, for one simple reason; compared to what it looked like online it's small, very small. To be honest, I was expecting a "full sized" (7"-8") traditional vibe, not an adorably cute little 4 1/2″ incher. Fortunately this wasn't something that disappointed me, instead I was very pleased as I instantly knew it would make a fantastic product for beginners!
*For most beginners size does matter, but not in the way you'd probably think. Rather than opting for 9" long monster dongs, the majority of beginners just want something small and discreet that they can hide away in a drawer or little box in the hopes that no one will ever find it. This vibe definitely fits that bill.
As for the stats, the pretty purple Saturn measures 4 1/2″" in total length, 3″ in circumference and is 3 1/4″ insertable. While it is a firm product (think hard plastic with no flexibility) it's also velvety to the touch, light weight, fits comfortably in your hand, has a slight ribbing to offer more stimulation and its phthalate and latex free, making it perfectly body safe.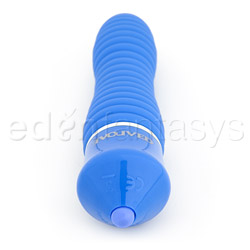 Operating it is extremely easy as there is only one button (located on the bottom) to worry about. Simply press the button once and it begins to vibrate at a gentle, if slightly strong purr. To turn it off press the button once more and it quickly powers down.
On that note, if you are someone that requires strong vibrations or intense stimulation to get off, this might not be the one for you. However, if you require a mild to moderate vibe, one that's gentle, steady and has the ability to offer direct and targeted stimulation without being neither too strong nor too soft, you should most definitely enjoy this fun little vibe.
Aside from all the other fantastic features I love about the Saturn, the fact that it's damn near whisper silent is a definite advantage. I'll be honest, when I've received other inexpensive products I've found them to be loud, often sounding more like a tractor on it's last legs than a simple little vibrator, definitely not the case with this one. While it does make noise (it is a vibrator after all) it's nowhere near what other products I've been sent sound like.
*With all of that in mind, I personally think it's an ideal product for most beginners, especially considering that many of the requests I get from newbies are for products that aren't "crazy strong", loud, giant in size or overwhelming in the power department.
Keeping with the idea that I think the Saturn would be great for beginners I'm going to suggest 2 ways I think its small size could be a definite advantage;
1.) Since it's not so big that it would hurt, nor too small that you'd have to worry about going fishing for it, I think it would be a perfect sized vibe to help most beginners get used to the feeling of having something inside them (vaginally).  Of course it could be great to bring about pleasure if you wanted to use it that way, but I think insertion  would be best for those that haven't yet engaged in sexual intercourse and are looking for something to train their body with, whether it be in an attempt to "stretch it out" or to simply get an idea of what to expect.
2.) If you don't know what your personal likes and dislikes are when it comes to being stimulated externally, this is a perfect vibe to help you learn; you can use the tip of it for direct clitoral stimulation, gently slide it up and down your vulva paying attention to the areas that feel good, hold it within your inner labia and rhythmically grind on it or simply use it to taunt and tease your erogenous zones.
Better than Rocket Science!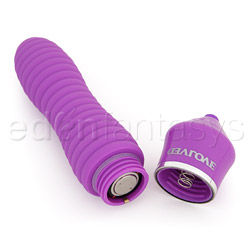 One of the main drawbacks to affordable toys is the need for batteries, fortunately the Saturn only requires 1 AA battery to  power it. That said, you could buy a four pack of batteries and know that for the next little while you shouldn't have to worry about not having a replacement if it dies in the heat of the moment.
Unlike a lot of other products that make battery changing a nail breaking, tooth chipping pain in the ass, changing batteries for the Saturn is very simple; unscrew the bottom cap, pop the battery in place, screw the cap back on and your done!
Since the product is waterproof you can very easily wash with mild soap and water, making sure to rinse it well. Dry it with a lint free cloth, place it back in the bottle case it came in (or wherever else you keep it) and it's safe til  next time.
The Bad
When it came to things I didn't like about the product there was only one, and truthfully, I don't even think it's that big of a deal; it only has one speed of vibration. That's it, that's my complaint. When you consider all the other benefits and features the product has to offer this one little thing seems to pale in comparison.
Final Verdict
For a beginner product it's pretty amazing! Seriously! Not only is it easy to use, light weight, discreet, body safe, water proof, whisper silent, moderately powerful, velvety to the touch and a comfortable little size, but it also comes discreetly packaged in an adorable little bottle shaped case – no one would know what it was even if they did find it!
If you're new to toys and want to get your hands on a fantastic, not to mention adorable little vibe, I highly suggest you take a look at the Bottle Rockets Saturn or any of the other colorful and fun little vibes in the Bottle Rockets line.
Trust me, you won't be disappointed.