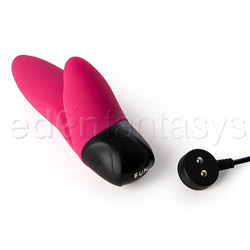 One of the suggestions I'm often given by my viewers is to cover smaller toys…
You know, one's that aren't so long, heavy, "intrusive" or overly girthy…
One's that don't hurt while they're being inserted or poke at the bottom of your cervix…
One's that don't leave you sore from being "stretched out" or otherwise raw from too much friction…
Well you asked and I listened!
Thanks to the folks at Eden Fantasys I am able to provide a review of a product that I absolutely love!  (and think those of you who have asked for smaller products will love too!)
The Good
As you all know I'm a big fan of Fun Factory toys, not only are they easy to use, well made, powerful, crafted from body safe material and very creative in terms of design, but they also now come in a fully rechargeable versions that I love – the Click 'n' Charge line.
One of the products in that line is the BiMini Flash, a soft, supple, slightly squishy and very small dual vibrator that is guaranteed to please!
For those of you that have found the insertion of a vibe to be painful (most likely due to a larger, harder head on the product) the Flash begins with a squishy and supple pointed tip that tapers to a girth of only 4 ¼ inches around. While that may sound large, it's actually very small and should be comfortable, both in regard to insertion and the products use.
As for the length, the product is rather small measuring only 5 1/2″ (in total length) with only the first 3 meant for insertion – like I said, it's small, comfortably small.
In regard to the power of the vibe, be prepared to be amazed! Seriously!
When I first got my BiMini Flash I had very low expectations; I didn't think it would be powerful, I assumed the vibe would only be felt in either the clitoral piece or the shaft – not both – and I also assumed the patterns would be weak. Boy was I wrong!
Unlike a lot of vibrators that have a motor in the bottom or top of the product, which can the diminish the strength of the vibe, the BiMini has one right in the middle so that the vibrations can be powerfully felt throughout the entire vibe, especially on the g-spot.
While it is very powerful, it's also surprisingly quiet. Sure it makes noise, it is a vibrator after all, but it's not as loud as one would assume. Now take into consideration that it might be muffled by sheets  and you've got yourself one very quiet vibe.
Like all Fun Factory toys the BiMini Flash is coated in body safe high quality silicone making it non porous (so it won't absorb bacteria), easy to care for, odour free, latex free and phthalate free.  On that note, when it comes to lubes I would only suggest a good water based lube as a silicone lube would more than likely ruin your toy.
Operating Instructions
As for operating the BiMini Flash well it's extremely easy; located on the lower end of the back of the toy are two buttons a plus (+)and a minus (-) sign. To turn the product on just hold down the plus (+) button for 3 seconds and it begins to vibrate at a very low purr. To increase the speed just press the plus (+) button or hold it down.
Once you've reached the highest speed of vibration press the plus (+)button one more time and it'll take you to the pulsation modes, there are 3 in total ranging from a low throbbing to a very fast pulsation. So, for those of you that like variety, without having too much to choose from, this is a perfect product.
To turn it off just hold down the minus (-) button for 3 seconds which should take you to the lowest setting, then press it one more time and it turns off.
Care & Cleaning
Because the BiMini Flash is completely waterproof you can simply clean it by using a mild anti bacterial soap and rinsing it well.  When it comes to drying I would personally suggest letting it air dry or using a lint free towel as the matte finish of the silicone can attract lint.
As for charging the vibe it's rather simple; just connect the magnetic charger to the bottom of the vibrator and let it charge. There is nothing to "plug in" or cradle for your vibe to sit in, nor are they any confusing buttons you have to push. It's simple, extremely simple…but that doesn't mean it's free of annoyances. (read the section below and you'll understand why I say that)
The Bad
As for things I personally don't like about the vibrator, well there aren't any.
That said, the biggest complaint I've heard (from others) in regard to the design of the vibe is the fact that clitoral stimulator isn't very long and might not reach the clit very well.  I personally didn't have any problems with the length and actually found it to be rather comfortable, but that's just me. Keep in mind that every female is different and what might work for one might not work for another and vice versa.
Now when it comes to things I didn't like about the charger, well that's another story…
The concept behind charging the vibe the is actually very, very, very simple,  but it can also be slightly annoying…
Located on the charging connector are two little silver circles which are meant to magnetically stick to the word "fun" on the bottom of your vibe.  While the magnetism is very strong, any little movement can cause a break in the connection which causes the charging to stop. Like I said, it's an extremely simple concept, but it can also be rather annoying when put into practice.
I found that the best way to keep this from happening was to place it on a flat, non metallic surface where it can't be moved and just let it charge. Since the charger is short circuit proof you don't have to worry about leaving it to sit.
Final Verdict
While I found the charger to be a wee bit of a pain in the ass, I gotta admit, I pretty much LOVE the BiMini Flash!  It's easy to use, easy to care for, made of body safe silicone, waterproof, very powerful, rather quiet, soft and supple, latex and phthalte free…but most of all it's the perfect size for amazing g-spot stimulation (and in my case clitoral stimulation too!)
For those of you that are new to sex toys and looking for a luxury vibe that's compact, not at all painful and will fit your bodies needs this might just be the perfect one for you!
If you'd like more info on the BiMini Flash or any of the other amazing products that Fun Factory makes be sure to head over to Eden Fantasys where shopping is fast, easy and discreet!