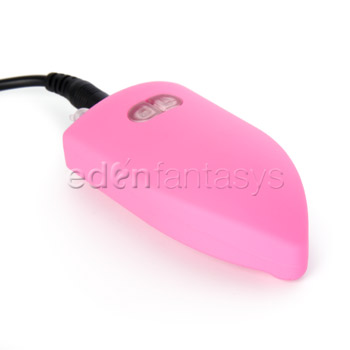 I've always been on the fence when it came to products made by one of the major manufacturers of intimate accessories, California Exotics. On the one hand they've created great ones like the entire line of  Couture Collection and Petite Couture Collection vibrators, silicone L'amour and the Xtreme Packs – all of which I'm a huge fan of. On the other hand they've also created unappetizing products like Kaylani's Futurotic Doggie Masturbator, cheap and dangerous Acrylite Beads, Teagan's Jelly Bendies Ripple made out of horrible jelly material  and the painful Wireless Extended Ring Matador – things I wouldn't suggest, personally use or go near for fear they may leave the user sore, raw or just simply fall apart. Aside from that the vast majority of products the company used to make (and possibly still does) are made of unsafe jelly material, not to mention being packaged in some of the cheapest and tackiest boxes/displays I've come across.

Having said that you can imagine my surprise when I realized that the cute and discreet Voila, a product I had been eyeing on Eden Fantasys for ages, was made by the folks at California Exotics. Quite honestly I wasn't sure to expect, but in this line of work you sometimes have to gamble on a company and hope for the best. Considering the many benefits and features it had to offer, I'm rather glad that I did.

*big thanks to the folks at Eden Fantasys for sending it my way!!
Packaging
Unlike many other California Exotics products the packaging is simple, discreet, respectful and professional. There's no half naked man or woman sprawled across the front of the rectangular box, no tacky writing or suggestive themes; just the name, benefits and features and an image of the product. That's it that all.
*I seriously hope the folks at the company keep this type of packaging in mind for future products.
The Goods
Out of the box the pretty pink triangular Voila was much smaller than I expected coming in at only 3″ inches in length by 1 1/4″ inches in width. It's this small size that allowed it to not only fit very comfortably in my hand, but also travel nicely as well. Having said that, it's not at all intimidating or overwhelming and would be great for those who are new to intimate accessories and wanting to explore. It's also very discreet in design and not something I think the majority of people would assume was used for pleasure filled activities.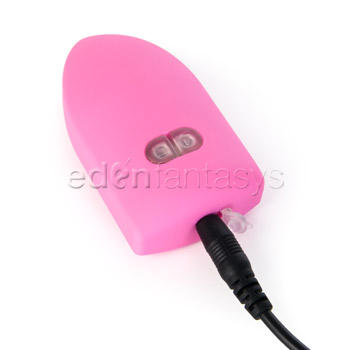 Another great feature for those that are inexperienced is the ease of use it has to offer; to operate the product there are only 2 buttons – one to turn it on and run through the settings and another to turn it off (a great feature for those of you that share a dorm room, bedroom or still live at home and are terrified of getting 'caught'). To turn it on simply press the clear 'F' button, to run through the range of settings press it again for each setting you'd like to experience. To turn it off simply hit the off button.
Regarding materials it's crafted out of phthalate and latex free ABS plastic and has a PU Cote making it soft and velvety to the touch (if you hate products that collect lint you'll love this).  There is a slight drag on the skin but it isn't anything a little lube couldn't fix.
When it comes to using the product I'd suggest it for either clitoral stimulation, foreplay (you could trace it across your partner's body or erogenous zones) or a light massage. Just keep in mind it's not Hitachi Magic Wand strong so if you're looking for a heavy massage that's deep and penetrating this probably won't be what you're looking for.
On that note, the vibrations of the Voila are more of a surface area high pitched vibe rather than a deep rumble. Even when used on the highest steady vibration or any of the 4 different patterns (making 7 settings in total), the results are the same; they're steady but strong and will likely go a long way for those that are very sensitive to any form of vibration. Even as a person that enjoys the Hitachi Magic Wand or products within the Fairy line I was impressed.
Care and Cleaning
Because it's an ABS product with PU cote cleaning can be done by using an antibacterial soap, giving it a good wash and rinsing it very well. As for lubes, I think you can use pretty much anything your heart desires, though I'd personally suggest a water based lube as a silicone or oil may be harder to clean off.
When it comes to powering the product you don't have to worry about batteries as it's rechargeable via a removable cord. Fortunately the folks at California Exotics thought ahead and designed the product with a clear plastic seal for the charger, allowing it to be completely waterproof.
The Bad
When it came to things I didn't like there really wasn't much to find, even when nit picking. For the most part it's pretty badass, with a lack of oomph being it's only drawback. Then again, not everyone likes a strong vibration.
Final Verdict
If you're someone who is sensitive and finds that most products are either far too strong or not strong enough you might want to take a chance on the Voila, a fantastic clitoral stimulator and foreplay accessory with vibrations that sit somewhere in the middle.
Not only will you likely find yourself rather impressed with the vibrations, but you'll probably also be pleasantly surprised with the ease of use it has to offer. If that wasn't enough it's also light weight, rechargeable, has 7 different functions, is damn near silent, water proof, travels well and has a much desired instant off button.